It's Friday!!!! And this is a long weekend! Yeah! And it's my birthday on Saturday too so we shall have to see what Mr. Magnolia has in store (if he actually remembers that it is my birthday that is!) I love my dear husband but alas, he does not always remember significant dates without a little nudging from myself. So I just might have to give him a little hint later today! :)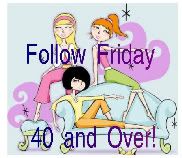 Once again it's Follow Friday 40 and Over at Java's wonderful blog
Never Growing Old
, where Java always looks about 18 years old yet has the wisdom of someone much more mature! I love visiting her blog and encourage you to do so too as you will be enriched by her sense of humour, the great beauty tips she gives us, and the endearing way she has of sharing her life struggles with all of us.
And if you're visiting from Follow Friday, welcome to my blog! I love having visitors and if you take a moment to comment, I will pop back over and visit your blog as well (although it sometimes takes me a couple of days to do so!).
Today for my visitors, I am serving a lovely slice of "virtual" sponge cake, topped with fresh peach slices, raspberries, and whipped cream! Hope you enjoy it!
Have a blessed weekend,
Ro