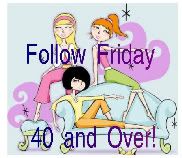 Yup, it's the weekend again!!!! Yipee!!! And that means Follow Friday 40 and Over is happening over at Java's
Never Growing Old
blog. If you haven't checked out her blog, you really must. Her posts are incredible, her sense of humour wonderful, and she is absolutely inspiring! I just know you're going to love her.
For those of you who have been following the story of Tiger's attack and recovery, I wanted to give you a little update. For those of you who are visiting today, the "readers digest condensed version of the story" is that our shop cat snuck out one night a couple of weeks ago and got attacked by a dog resulting in significant injuries. Fortunately Tiger is getting stronger every day. She is using both of her back legs now, although she is only able to hold herself up about 3/4s of the way. She is walking .... well, sort of shuffling ... and able to hold herself up to use the litterbox now. All of these things are amazing when you consider what she has gone through. I'm starting to encourage her to walk more now that her wounds are healed, but she still has to be kept away from stairs or any elevation changes as she could injure the hip that was operated on if she jumped down on it.
My husband has made a little pen for her outside so she can enjoy the grass and watch all the birds, bees, and butterflies go by. I sit outside with her twice a day so she can enjoy the outside. I'm nervous of leaving her there alone so I stay with her - we frequently have dogs show up on our property and I think it would frighten her to death right now if a strange dog just suddenly showed up and she was in a little pen that could so easily be knocked over by a bouncy dog even if it had no intent to hurt her.
Here's a picture of the little sweetie in her "pen" - she loves to lie there and look up at the sky and sniff the grass and she walks around in her pen, shuffling her way from one side to the other.
I can't wait for all of her fur to grow back in so she will really look like herself again. If I take a photo of just her front half, and from the right direction so you can't see the area shaved under her chin, then she looks perfectly like herself!
Well, I hope everyone has a lovely weekend!
Blessings,
Ro