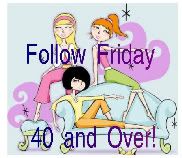 It's Friday again! The weekend is almost upon us and today is Follow Friday 40 and Over, a wonderful blog hop hosted by Java over at
Never Growing Old
. So hop on over there and check it out!
Today, I'm serving all of my visitors a special smoothie .... a peach smoothie! I've been making them every day this past week for Mr. Magnolia and myself. He has his own auto repair shop and works very hard. This summer has been an especially hot one and so I love to bring him a nice cold refreshing drink in the middle of the day.
The hot weather has been wonderful for our peach crop ... all that sunshine brings out a really high sugar-count in the fruit. To make my peach smoothies, I peel 6-7 good size peaches, throw them in the blender with a splash of orange juice, and a couple of scoops of vanilla ice cream and voila! That's all it takes and we have wonderful peach smoothies to enjoy.
I hope you all have a "peachy" weekend!
Ro