Hey, it's Friday already! And once again I am participating in Follow Friday 40 and Over. If you're new to my blog, welcome! Please stay for a little visit. Hope you enjoy my post today - mainly a photoblog this time around. Every day, I post something different, but I do love to take photographs so I often share them here. So sit back for a moment, grab a cup of coffee or tea, and pretend you were with us yesterday as we ventured into the countryside.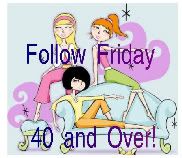 Yesterday was Canada Day, so we had the day off. I tend to groan a bit when holidays fall in the middle of the week instead of giving us a long weekend, but it was actually so lovely to have a day off in the middle of the week and still have the weekend to look forward to.
We took a lovely drive up to Amish country, spent some time at St. Jacob's Farmers Market, stopped at a garage sale in the little village of Alma, explored the cute little shoppes of Elora, and had an early supper at Elora Mill Inn, on a patio, hanging over the gorge. It was a beautiful day and I just have to share some of my photos!
First a couple of shots from the Farmers Market. I couldn't resist taking this picture of these two Amish guys who were having such a good laugh while they were waiting to sell their maple syrup products. The second shot was taken because I absolutely love the vibrant colours of the fruits and veggies that are available at this time of year.
After we left the market, we went for a drive through the countryside.
Then we stopped at Elora Mill Inn for dinner. It sits on an incredibly beautiful gorge.
We ate on that balcony looking out on the water. The glass-topped table made it feel like we were hanging right over the water!
It was so much fun watching the kayakers run the rapids.
When the kayakers were done, the second act of our dinner show occurred when this lovely blue heron flew in for a fishing expedition. We watched while he patiently waited at the side of the river, caught one fish, and then waded right into the middle of the rapids and caught three more!
After dinner, we explored some of the little shoppes in downtown Elora.
And stopped for the very BEST ice-cream I have ever had at this little place. The ice-cream was organic and absolutely so creamy, it was INCREDIBLE!
One scoop of French Vanilla, and one scoop of Cappuccino - the perfect dessert to end a perfect day!
(Oh, and some other time, I'll have to show you a picture of the vintage rolling pin I managed to pick up at that little garage sale!)