It's Follow Friday 40 and Over again over at Java's
Never Growing Old
blog. It's been a busy week but a great one! Here are a few photos to give you a little glimpse into some of the things happening here on the Magnolia acreage.
Our garden has been producing like mad! We have cucumbers, tomatoes, peppers, beets, zucchini and radishes coming out of our ears! I love having fresh veggies in our garden and Mr. Magnolia and I are enjoying loads of fresh salads and stirfries. Yum!
Our flowers are also loving the hot, steamy summer weather we are enjoying! This mandevilla vine has doubled in size since I purchased it. We have a hummingbird who loves to come and feast from it's trumpet-shaped flowers, but he's very camera shy and I haven't yet been able to spot him when I had my camera ready. Silly little hummer! You'd think he knew exactly when I have my camera and when I don't!
The sidewalk leading from our front door is graced by lovely hydrangeas and rose of sharon, all of which are blooming beautifully this year! I love to sit on our front porch in the evening and look out in this direction which faces west, so I can enjoy the lovely sunsets.
And speaking of sunsets, I was lucky enough to catch this beautiful sunset this past week. We live across the road from a winery which has converted a lovely old home into a restaurant. I couldn't believe the incredible colours that lit up the sky behind the winery this past week! They are actually to the south of our property, but the sunset was reflecting back from the west all the way around the winery property. Made for a very picturesque moment!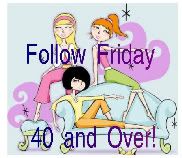 If you are visiting from Friday Follow 40 and Over, I hope you have enjoyed a little glimpse into my life here in Southern Ontario, Canada. My wish for you today is that you would have a few moments this weekend, to enjoy a sunset of your own, or perhaps to stop and smell the flowers, and appreciate the little things of beauty in your own life.
Blessings,
Ro