I need some advice! Today I discovered two
"
found objects
"
and I'm not quite sure what to do with them.
The first one is a
"
volunteer
"
plant:
It just appeared in the bottom of this unused planter. I hate to throw it away because I suspect it's not a weed, but I have no idea what it is!
Here's a close up:
I'm thinking that it might be a
watermelon
, a
zucchini
, or a
cucumber
. Any thoughts?
My next item is totally different. Occasionally people drop off scrap metal at my husband's shop because they know he takes regular trips in to the scrap yard. If I have time, I like to poke through the piles because I never know what interesting things I might find. I discovered this
really cool item
a few months ago but I haven't decided what to do with it. I'd like to use it in my
garden
somehow but I'm not sure where or how. Any suggestions would be greatly appreciated!
It's about one foot in length and is quite heavy metal. I love the look of it, it sort of reminds me of a violin or treble clef.
So all

input, advice, suggestions

would be greatly

appreciated!
And finally, I "found" this item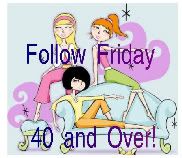 Over at my friend Java's awesome blog "Never Growing Old". If you want to participate (and you're lucky enough to be over 40) head on over and check it out!