Ahhhhhhhhhhh......It's Friday!
Friday is full of hope, the beginning of the weekend, when everything is still full of possibilities and opportunities and who knows what is coming! I hope you are enjoying your Friday and all the anticipation that comes with it, dreaming of a perfect weekend, with sunny skies and whatever else makes a perfect weekend happen for you.
It's Follow Friday 40 and Over again! I don't know what it means for you to be over 40 - for me it's been a bit if a surprise. I dreaded turning 40! I thought it would be all things horrible. But then it happened, and I realized that 40 is okay .... and maybe not just "okay" but actually pretty darn good!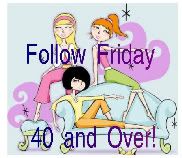 If you're visiting from the Friday 40 and Over blog hop, welcome to my little corner of blogland! I hope you enjoy your visit. Today, I am serving all my visitors a piece of the first mulberry pie of the season. It's so sweet and tangy, I just know you are going to enjoy it!
So pull up to the table and grab a fork. Would you prefer coffee or tea with your pie?