It's Friday! Yeah, the weekend is almost here! Today has started out to be a beautiful day. The sun is shining after 2 days of rain and I had a lovely breakfast out with my Mum. And, I'm so excited that in less than a week, I've managed to get our little Chippy eating out of my hand. If I could figure out how to upload a video to my blog, I'd show you the cute little guy running up my leg to get a peanut. But I'll have to make do with this still shot instead:
And once again, it's Follow Friday 40 and Over, at Java's
Never Growing Old
blog. I participated for the first time last week and had so much fun meeting new people. Looking forward to another go at it today.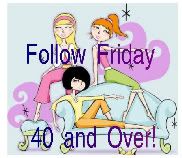 And one of the bloggers I met last week is having a Blog Hop over at
Things and Stuff
and I've decided to participate in that too.
1. If you could go back to college would you change your major? Or, if you were to go to college right now...what major would you choose?


Hard question because I loved the majors I chose: History and English. I think maybe I'd choose the same again even though they haven't proven to be the most practical choices.


2. What do you love most about your home?

The style. It's an old home built in 1876 and I love the high ceilings and woodwork and the lovely old-fashioned wrap-around porch.


3. What types of books do you like to read (if you like to read at all)?


Mainly fiction. I love mystery stories but tend towards the "cozy" ones where the village cat solves the crime.


4. What is the grossest thing you've ever eaten?


Turnip. I despise turnip. Well, I don't mind it stir-fried or raw, but when it's cooked into a gelatinous mass of goo it is most disgusting.


5. If you HAD to be a character on a TV show, whom would you be?


Oh dear, I don't watch a lot of TV. I'm not sure I can answer that question. But if I absolutely had to choose, I guess I'd choose Mary Tyler Moore. I grew up on reruns of her show and everything about her just epitomized what I wanted to be when I grew up. She had such a different life than my rural childhood and it seemed so glamourous. Remember her fold-down Murphy bed? Seemed so exotic and sophisticated. In reality, it was probably a poky little apartment and wouldn't have been too great in real life. But her character and that show have the whole nostalgia thing going for them for me, a piece of my childhood dreams.