Today is Follow Friday 40 and Over blog hop day! I love this day and I'm so thankful to Java for starting it. I've met some of you lovely bloggers the last few weeks through this blog hop and hope to meet more of you today.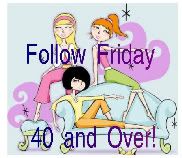 Now usually, I like to set out a little refreshment for my guests, perhaps a nice glass of lemonade, or a slice of pie. We can sit a while and visit and take some time to get to know each other, in a gentle kind of refined way.
Not today!
You see, I've been rather busy this past week taking care of this:
My mother is away visiting my brother in Greece right now. So I have been faithfully driving over to my parents' home twice a day, watering all of her MANY hanging baskets and flower beds, preparing meals for my Dad, and taking care of my Mum's sweet cat "Button."
Unfortunately, there are some projects at my own home that have been put off and put off and can wait no longer! So today, in between trips to my parents (my Mum comes back tonight, Hallelujah!!!), I will be tackling this job:
Yes, yes, I realize the flower bed in the background DESPERATELY needs weeding ... but today, I'm concentrating on mending and painting my swing which is dying for a fresh coat of paint!
So, I hope you drop by for a visit today, but instead of this:
I just might offer you one of these:
But I bet we'll have fun together anyway. And when it's time for a break, this is where I'm planning to head. Wanna join me?