It's "Follow Friday 40 and Over!" once again.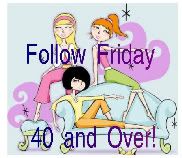 I always look forward to meeting new bloggers this way. If you're new to my blog, welcome! I hope you stay a while and enjoy your visit. It's a warm day here in Southern Ontario. So here's a nice glass of lemonade for you to enjoy while you visit.
And what's that in the background? My new planter! I just put it together today and I'm so pleased with the way it turned out.
In this eye-level shot, you can see that I've used my tiered dessert server. I used an old glass lampshade in the bottom, that conveniently had holes already in it for screwing the light fixture up. They will work perfectly for drainage now that it's been reincarnated as a planter! Then I buried an oversized "teacup" in the centre, with it's matching plate standing behind. Into the teacup went a ceramic pot.
Here's an overhead shot where you can it see more clearly.
I've planted a little sweet-smelling lantana in the centre pot and some trailing lobelia in the glass lampshade. I can't wait to see how it looks in a few weeks when it fills out a little more.
Thanks for dropping in! Hope to see you again real soon.